Summer Words and Ink: finding a place on the page for our life experiences
June 6 @ 10:00 am

-

12:00 pm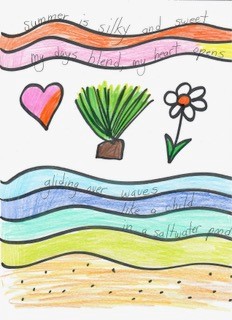 732-270-3111
Instructor: Elaina Parsons
Join us at the guild for an all-levels writing class. Let's aim to unearth summer memories. Everyone is a writer because everyone has memories and souvenirs of summer.
Did you pick peaches from trees? Plant tomatoes in your yard? Sail boats on the shore? Help build a house? Or maybe you simply read your days away on your front porch? Maybe you helped your dad drive the ice cream truck around town or spent your time at sleepaway camp? Maybe you found yourself alone and bored. Whatever summer memories stir in your mind, they'll find the perfect space on a page.
Together we will read, discuss, write, and share short, powerful pieces of published poetry and prose that depict summer. You don't have to share your work out loud if you don't want to. Together we will document our memories, ideas, and our innermost wishes related to summer.
Towards the end of the session, we will design a doodle to match our words. Or we will simply use the words as the art. Either way, we will produce a final product using sharpies on white stock paper. Color optional.
This class is for writers of all levels, ages 16 and up. This class is for those who love books, words, and community. There is great potential for this class to become a series or a literary group.
Taught by Elaina Battista-Parsons, local resident, certified special education teacher, published memoirist, poet, and essayist. Italian Bones in the Snow: a memoir in shorts.
Materials required: notebook or journal of your own, pencil/pen.
*Sharpies, stock paper, and colors provided by instructor.
http://www.ocartistsguild.org/classes
732-270-3111