Clash of the Titans!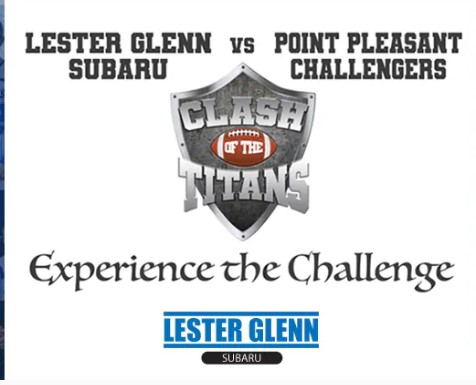 Our 3rd annual Clash of the Titans event is here, taking place on Sunday, August 13th from 12 PM to 6 PM at Community Park in Point Pleasant, NJ.
This event is FREE and open to the public. In addition to the game, there will be fun available for the whole family including:
Food Trucks
Bumper Cars
Games & Prizes
Music
Rock Wall
And more!
This annual event is hosted by Lester Glenn Subaru and the Point Pleasant Challenger Flag Football Team to help raise awareness and funds for the Point Pleasant Challenger Flag Football program.
The Point Pleasant Challenger Flag Football program was designed to allow children with various types of special needs the opportunity to participate in a team sport that promotes inclusion and helps those with special needs succeed.
This program is a nonprofit organization that believes that the football field is a place where more than just a game is played. It works to help bridge the difference and promote an understanding of people with special needs. Through the program, volunteers learn that people with special needs are not so different than themselves and develop an understanding of the challenges that their differently-abled counterparts face each day. The challenger athletes have the opportunity to play a team sport, experience a sense of comradery and make physical gains in terms of coordination and endurance, while also learning how to work as a member of a team.
We hope you and your families can join us at this amazing, FREE, event on 8/13/23 from 12 PM to 6 PM in Point Pleasant!