4 – H & Ocean County !
Ocean County 4-H (rutgers.edu)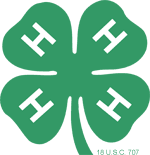 The 4-H Youth Development program offers a variety of opportunities for young people. Beginning in Kindergarten through grade 13 (one year out of high school), youth participate in activities, competitions, workshops, and conferences that help them grow into caring, contributing, and confident adults. 4-H was founded in 1902 with the purpose of instructing rural youth in improved farming. By the 1970's, it broadened its goals to cover a full range of youth projects. Today 4-H serves youth in rural, urban, and suburban communities in every county in every state across the nation reaching 6+ million youth!
Have an idea for a Traditional or S.T.E.P 4-H Club?
4-H staff would be happy to work with you to make this become a reality!
A 4-H club meeting usually includes fun activities, educational opportunities, and a business meeting. 4-H
clubs also get involved in community service through activities like beach clean ups, assisting with local food
pantries, working with community partners, and more. This emphasis on developing youth in leadership
roles is an integral part of 4-H and is why 4-H alumni include many of our nation's top leaders.
What is 4-H?
The 4-H Youth Development Program is part of Rutgers Cooperative Extension. 4-H is a dynamic, informal,
educational program for youth. Its programs reach over 6 million young people across the United States.
4-H programs assist youth in acquiring knowledge, developing life skills and forming attitudes that will enable
youth to become self-directing, productive and contributing members of the world.
What makes 4-H unique?
4-H makes learning fun! In 4-H clubs young people work with peers and adult volunteers to learn new skills,
practice leadership, give back to their community, and make new friends. They learn about topics that interest
them through hands-on activities. We believe in learning by doing.
4-H members select one or more topics to learn about during the year. That includes everything from learning
how to cook, caring for an animal, helping the environment, and much more. These topics are referred to as
"projects." Hundreds of projects are offered through 4-H so members can pick the ones that most interests
them.
The 4-H Pledge is a symbol of the devotion generations of youth that have given to the 4-H program. Its words
embody the goals of 4-H.
We are eager to work with you to find the right club or to start a brand new one!