White Rabbit's Rocks the Lighthouse Tavern
March 4 @ 7:00 pm

-

11:00 pm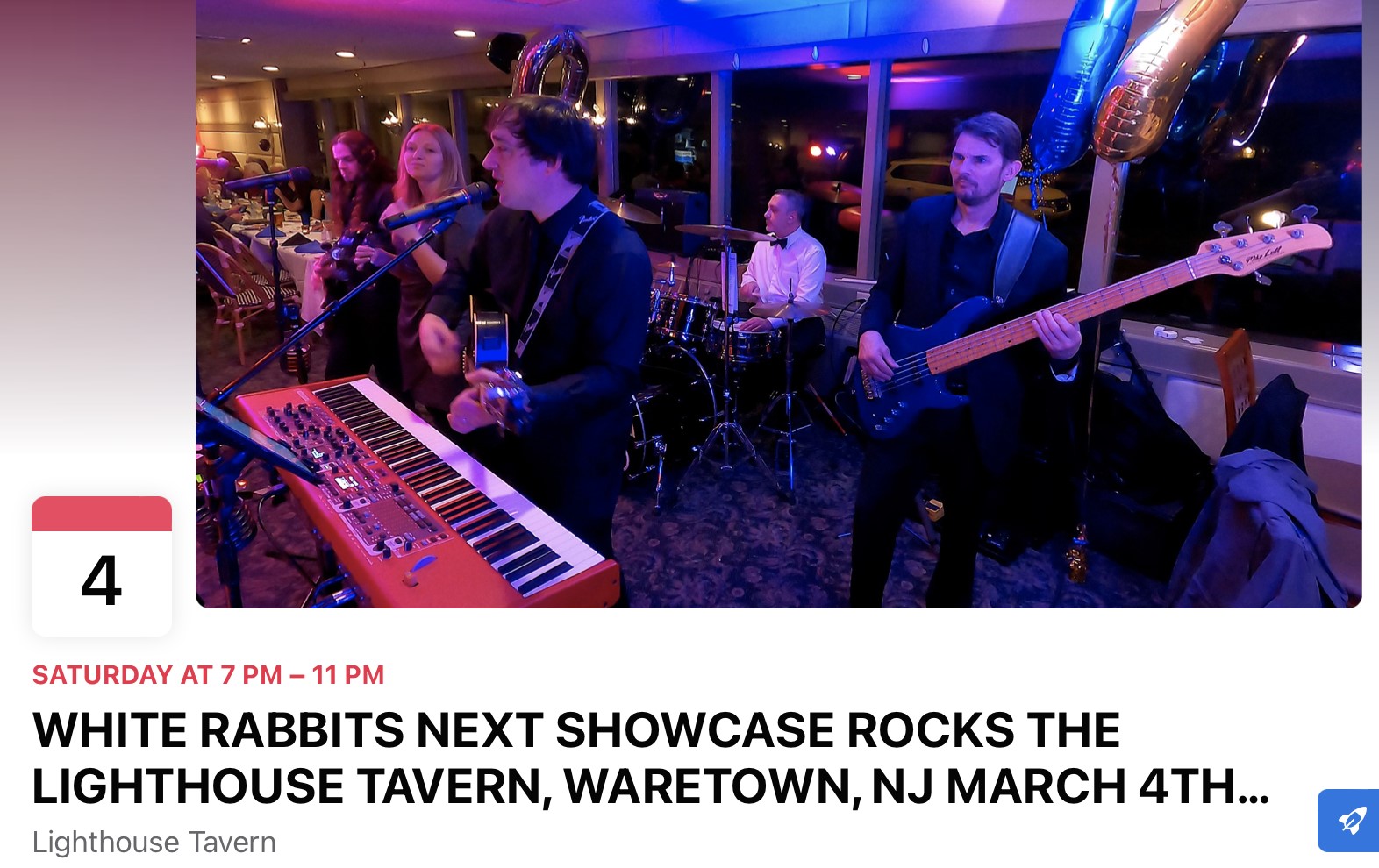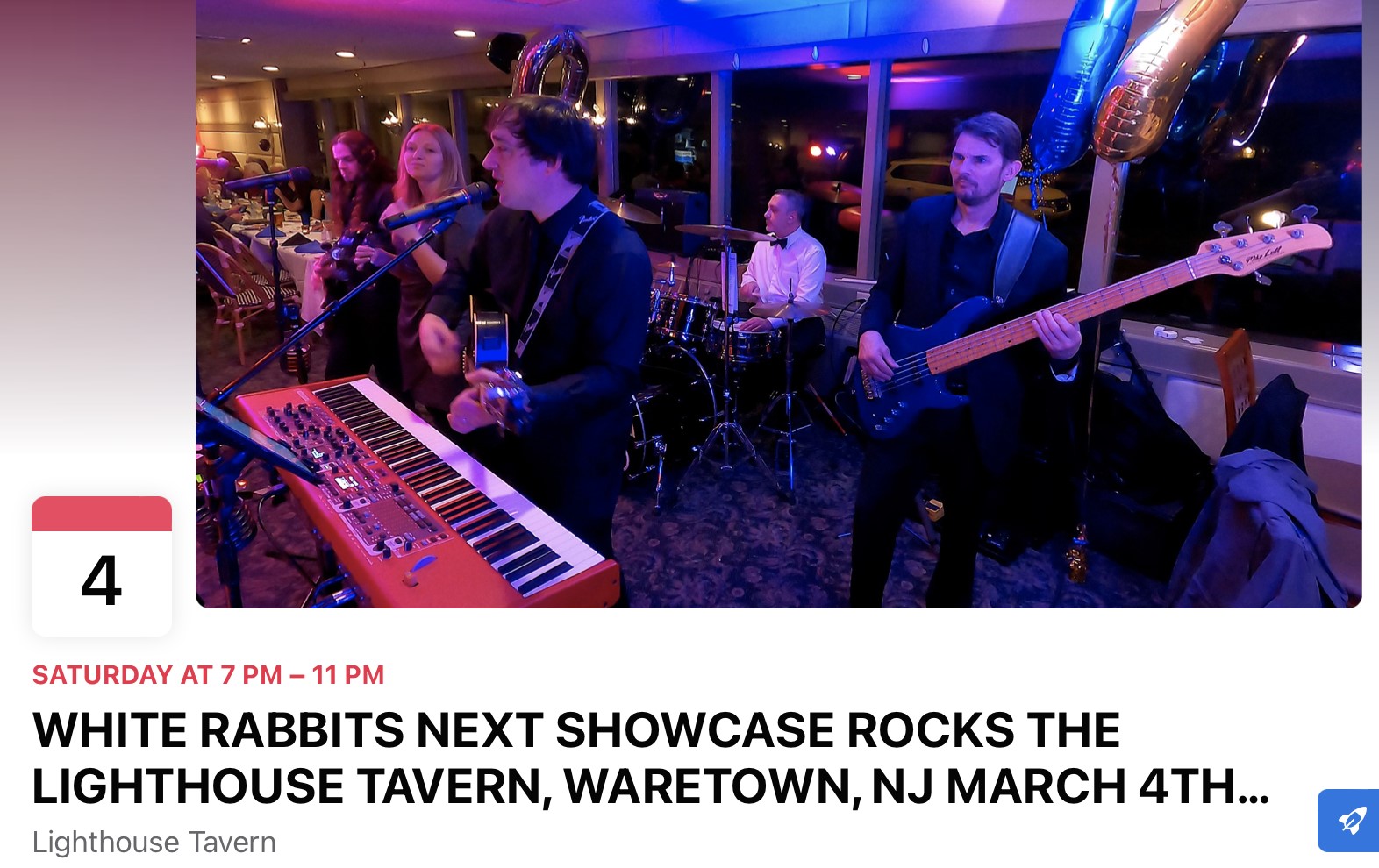 White Rabbit, is a NJ Wedding & Cover Band from Lacey Township!  White Rabbit specializes in providing music for your wedding ceremony, cocktail hour and reception.
Visit their websites at whiterabbitrocks.com.  Call Lyle Smith at (609) 713-7155 to check availability for your wedding date.  And as always, thanks for your referrals.
Some Testimonials:
"Book them! We loved their sound. They are a great cover band without being over the top, they play recognizable music while still putting some of their own touch on everything. They're just a super-fun, unpretentious, just really cool and down-to-Earth band, and they really made our night. Many guests told us that White Rabbit was the best wedding band they'd ever heard, and we agree!"
Mookie K
"They blew us away with our wedding song, which they learned for us, and they were a lot of fun. They have been amazing throughout the process and were super professional and helpful! We gained a friendship. The guests enjoyed all the music and had an amazing time! We will definitely be recommending White Rabbit to fellow friends in the future! Thank you guys for an amazing time!"
"White Rabbit is everything and more!  They made our wedding complete.  From the beginning, they were a pleasure to work with and helped make wedding planning easy and exciting.  Brandon arranged the music for our ceremony and played the cocktail hour.  He was able to find the perfect version of "Here Comes the Bride."  The band played and MC'd the entire reception.  Everything ran perfectly and smooth.  They played every song we had asked them to play which meant so much to us.  Dancing to the live version of our wedding song was such a special moment.  The band was able to feel the crowd and keep the dancing going!  My friends and family are still talking about how much fun they had!  Their talent and ability shines, as well as their professionalism and flexibility.
Jaclyn & Darell Szezypta
"We were looking for a solid "rock" band for our wedding that could handle to duties of ceremony music, cocktail hour, and then rock our socks off for the reception.  A friend referred us to White Rabbit, and the rest is history.  They each were incredibly professional, talented musicians.  The lead singer and band leader, Brandon, was able to play piano for our ceremony as well as our cocktail hour, then their 5 piece band was the highlight of the evening.  Brandon also served as an excellent Emcee.  The best part of it all was that we didn't have to worry about any of it.  We were able to put our trust in Brandon and White Rabbit, and our wedding went off without a hitch.  One last thing was the incredible price they were able to offer us.  I highly recommend White Rabbit to anyone who is looking for an excellent, professional band at an extremely reasonable price."
Joe Hart
"We LOVED having White Rabbit as our wedding band!!! From the ceremony, to the cocktail hour, to the reception, the playlist and vibe were tailor made for us, exactly our style, and set the perfect mood for the night. Guests raved that our band was amazing and we wholeheartedly concur!!!"
Ed & Patricia Larkin
Throughout our interactions with Brandon, he set a calm and capable tone filled with positive energy that really took the stress right out of the planning process. Since we were planning from the middle of the country, it was a big relief to know that they were figuring out the details and planning ahead. And last but certainly not least, the music was amazing. We had countless guests tell us how much they loved the band. Everyone loved the variety of songs that both White Rabbit and the DJ selected. We loved that they have both male and female vocalists, so can sing a wide range of songs. We had guests from 16 to 92 years old, and everyone hit the dance floor and had a great time. Thank you White Rabbit for making our big day better than we were imagining.
It really was a pleasure to have you guys play at our wedding.
Jessica & Daniel Hart