A Film & Fundraiser for Ukraine : Olga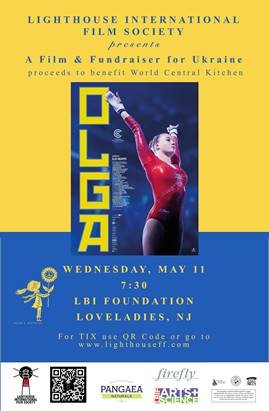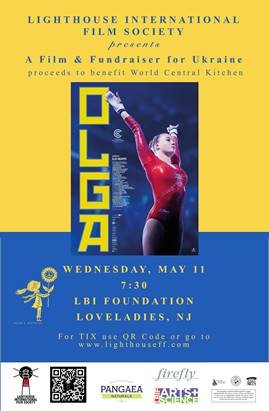 Looking for a way to show its support for the people of Ukraine, the Lighthouse International Film Society is hosting a benefit for World Central Kitchen and their life-giving work feeding the citizens of that war-torn country.  
Specially selected for this benefit is the multi award-winning drama, Olga, which tells the 2014 story of a teenage Ukrainian gymnast exiled in Switzerland while training for the Olympics. As she prepares for competition, back home her friends and neighbors rise up to overturn the brutal dictatorship of Viktor Yanukovych, leaving Olga distant from the land she loves and powerless to help her struggling family.
"We chose this film because it offers a glimpse into the life of a Ukrainian girl forced to make difficult choices during a dangerous time of great uncertainty," says Natalie Caricato, Director of Lighthouse International Film Society. "And we hope her story will bring the LBI community together for a common cause."   
While the film is not a documentary, it does star Ukrainian gymnast Anastasia Budiashkina in the role of Olga, and features other members of Swiss and Ukrainian national teams. The film's French director,  Elie Grappe, explains his strategy this way, "This film is about being exiled—a heroine torn by her loyalties to her country and career in a geopolitical situation beyond her control. I did not want to work with professional actors. I had to try and capture the truth using gymnasts. Which is why I chose these elite young athletes to explore the difficulties reconciling personal desires with the course of history." 
"Lighthouse International Film Society chose to benefit World Central Kitchen with our ticket sales because they have been on the ground feeding the hungry since the day after the initial invasion," explains Ms. Caricato. "Our hearts go out to the Ukrainian people and we believe this film will bring awareness to their present struggle and great need."
For Tickets Please Click Below :
Lighthouse International Film Festival – Long Beach Island, NJ (lighthouseff.com)
Olga will be presented In multiple languages with English subtitles
WINNER SACD Award at Cannes Critics' Week 2021
WINNER Best Film Hamburg Film Festival 2021
WINNER Audience Award Brussels International Film Festival 2021
WINNER Best Actress Gijón International Film Festival 2021
Sponsors – Pangaea, Firefly, LBIF, Ocean County Cultural and Heritage Commission 
Lighthouse International Film Society will not be accepting individual donations for World Central Kitchen. To donate directly, visit https://wck.org/relief/activation-chefs-for-ukraine